Wedge Clamp Systems is proud to announce its latest product for the collision industry: The NitroWeld 650, a heated nitrogen plastic welder.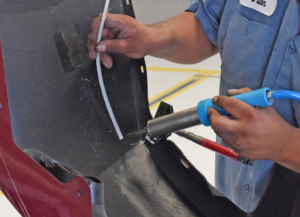 The NitroWeld 650 is designed to repair such damaged plastic products as bumper skins, headlight tabs and plastic radiators. The system is capable of welding a variety of substrates including polypropylene, ABS, Nylon, PVC, polyurethane and polycarbonate.
As business partners, Wedge Clamp Systems and NitroHeat share a vast amount of experience in the design and development of nitrogen generators and heating systems. By merging their expertise in these two fields, the companies have managed to design and sell the NitroWeld 650 plastic welder for a lower price than that of most competitors.
Manufactured in Oregon, NitroWeld complements the heated nitrogen spraypainting products from Wedge Clamp Systems, and will greatly enhance the productivity and finish quality of the repaired plastic components. Wedge Clamp Systems will offer the distribution of the NitroWeld 650 to all of its existing and future distributors.
Rodica Matei, COO, Canadian Operations of Wedge Clamp Systems says the NitroWeld 650 is another step in the company's innovation process. "We are constantly exploring opportunities to enhance the productivity and efficiency of our distributors and end users in the collision repair segment," she says. "This proven technology is geared to further promote our brand and to help
our customers work faster, smarter and better."
About Wedge Clamp Systems
Since being introduced 30 years ago, the Wedge Clamp repair system has been changing the art of vehicle autobody repair by through ingeniously simple, lightweight and portable designs. With more than 27,000 installations today in countries from Australia to South Africa, the USA and Canada, bodyshop owners and technicians alike are delighting in the many benefits of its various components for their ingenious simplicity, ease of use and unquestionable results.
About NitroHeat
NitroHeat is a manufacturer and distributor of innovative high performance air filtration, heating and nitrogen generation equipment. The company's equipment reseller network distributes its made-in-USA products, including the Nitromax 30 heated nitrogen generator; MaxDry 200 high performance filtration, membrane dryer and compressed air heater; HeatPro 200 (compressed air heater), and new NitroWeld 650.
For more information about Wedge Clamp and its products, phone 1-800-615-9949, visit https://www.wedgeclamp.com or www.nitroweld.com, or email info@wedgeclamp.com.